Baseball Gear
Find the adult baseball glove, bat and baseball gear that you need and want.
Disclosure: This page contains affiliate links, which means if you purchase after clicking the link I may receive compensation.
⚾️⚾️⚾️
We love playing baseball. And getting out on the field requires the equipment that makes us comfortable so we can be competitive.
To help make that easier, i'm happy to include links to partner companies that I believe provide quality products for players to use on and off the field.
Part of my mission with Middle Age Amateur Ball Player is to create a fun site that brings together stories, advice, events and information related to amateur baseball. I strive to be a quality resource for ball players and their loved ones.
These are some of my favorite sources for baseball equipment and supplies. I've used each of them in the past for my own various baseball needs. Each of these are easy to browse sites with top brand choices. You can find the bats, gloves and helmets you need. Or the apparel that will have you playing in comfort and style.
Whether you are looking to stock up for your upcoming adult baseball league season, need something special for your next tournament or want to find the right gift for your little leaguer, you can check out the links below to find it.
Check back from time to time as more outstanding companies that I trust get added to this page.
⚾️⚾️⚾️
Epic Sports
A one stop shop for your baseball and softball needs. Epic Sports has a huge variety of brands and equipment and great deals found there every day.
⚾️⚾️⚾️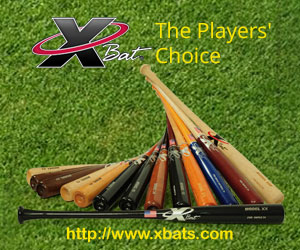 A top manufacturer of wood baseball and softball bats, X Bat is one of the most trusted names in baseball. Their wood is sourced from one of the best growing climates for wood in Quebec, and their finished bats reflect the pride they take in their craft. Additionally, they are one of a very small group of bat makers to have ASA certification for wood bats. To get that, attention to detail and quality is impeccable.
⚾️⚾️⚾️
It's hard to go wrong with Wilson Baseball. They have one of the best regarded glove lines in baseball, as well as a great selection of apparel, gear and accessories.
⚾️⚾️⚾️
One of the originals, Louisville Slugger still knows how to play the game. They set the standard on wood bats and they bring that quality to everything they do.
⚾️⚾️⚾️
EvoShield sets the standard when it comes to protective equipment. Whether it's an elbow guard, catchers gear or batting helmets, you can trust them to protect you.
⚾️⚾️⚾️
A top name in bat and ball sports, Demarini offers some of the best equipment available. They offer quality in every product so you just have to worry about your performance when you're on the field.
⚾️⚾️⚾️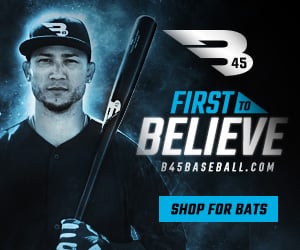 A pioneer in the use of yellow Birch wood for baseball bats, B45 brings great quality to the field. In addition to standard bat models they create custom models enjoyed by a growing number of big leaguers.
⚾️⚾️⚾️
The major carrier of brand licensed gear from every major sport, Fanatics definitely has baseball covered. Whether you are looking for a jersey, hat or cooler from your favorite team, Fanatics has you covered.
⚾️⚾️⚾️
The most popular shoe on the baseball field is New Balance. Bringing comfort, durability and style to every foot they touch.