Take a look in my Baseball Equipment Bag
Part of the journey of baseball is discovering the equipment you trust to perform.
Disclosure: This post does contain some affiliate links, which means if you purchase after clicking one of those links I may receive compensation.
When I was 7, I just grabbed my glove and hat before heading out the door to play baseball.

When I was 13, my bat bag was one of the 80s/90s vintage red vinyl Easton bags. It had my glove, a TPX bat, my cleats and Bubble Tape gum.
Today, my bag takes up half the space in my car trunk. My bat roll, fully loaded sits separately next to it. Things have definitely changed over the years.
If you walk through your team's dugout on game day, You're likely to see a different equipment collection in every player's bag. Baseball players have very individual preferences in their gloves, bats and other equipment they use on the field.
Some preferences are about utility. Other choices are about comfort and reliability. And let's be real, no sport is more superstitious than baseball, so some items might be there to sway the baseball gods.
This is only some of the equipment in my bag on gameday. Not including my catcher's gear, baseballs or accessories.
After finding my way back to the field after many years away, I had to start building up my equipment from scratch. It involved a lot of trial and error. But it's been fun. My trunk, side deck, living room and bedroom look like a used equipment store now.
I had a lot of hit and misses along the way in finding the right brands and models that gave me the best feel and performance. Whether bats, gloves, cleats or even the bag itself, I've gone through enough equipment to outfit an entire lineup. The choices available have exploded since my teenage years.
I'm sure many of you can relate. Finding what works for you is like a treasure hunt. Every time a new glove or bat arrives on your doorstep, it feels like Christmas. And when you take a chance on a brand or model and you really like it, it feels like hitting a homerun.
Let's take a look through my equipment bag. I'll explain some of my choices along with providing links you can check out of some of my choices.
Equipment bags
You might notice that I keep calling it an equipment bag instead of a bat bag. I'm not using that term just to be pedantic.
As I've taken on more roles on the field, my equipment needs have grown. And that means larger and larger bags to keep it all together. At one point, I was using 3 bags to carry everything. That made getting it to the field pretty taxing.
Additionally, I use different bats for different situations, so I bring many with me to games and practices.
I started off with a Demarini backpack style bag. It was perfect for a glove, a couple of bats, a helmet and cleats. If I only played infield, I'd probably still use this bag. It's light, convenient and holds a lot for a smaller bag.
Once I started expanding my playing spots, my bag needed expanding too. I went with a Louisville Slugger Omaha bat bag next. It held a few more bats and was roomier. The carry straps and wheels were a nice touch. It fit my needs for a while.
After I started
catching regularly
, though, I needed a much bigger bag. At first. I just carried the catcher's gear separately, but I got tired of having so many bags to carry to the field. So I searched around and found one to fit my needs.
It's a Champro Jumbo equipment bag. Nothing fancy. But perfect to carry my gear. This thing is huge. It fits all my catching gear, 8 gloves, 2 pairs of cleats, a helmet, a dozen baseballs, a bunch of accessories and I can throw a few bats in too when I want. The side pocket is perfect for my arm sleeves, an extra shirt and socks, as well as holding my keys and wallet. It's durable, has solid wheels and is easy to carry. The price, coming in under $100, was very reasonable too. I'm very happy with it.
Bats
I use a roll up, fence hanging bag to carry my 805 Bats to the field

Out of all equipment, I think the baseball bat is where it's most fun to explore and discover different brands, styles and models.
I have bats from most of the major labels like Louisville Slugger, Easton, and Rawlings. I have bats from newer but solid brands like Dovetail Bats. I love birch wood and B45 doesn't disappoint. And Xbat makes one of the better sticks I've ever swung.
I also have some great bats from smaller companies like Outlaw bats. I've tried composites from Demarini and bamboo from Bamboo Bat company and Mizuno. Trying out new bats and exploring different manufacturers' bats is one of my side past times.
It's that love of bats that pushed me to start handcrafting them and to launch my own brand, 805 Bats. I make any turning model I want, established or custom, so it's been a game changer for my bat selection. I've made many one-of-a-kind models for my GameDay arsenal.
So while I still use and love all the other bats I have, most of the time, I'm swinging my 805 Bats. I always bring a lot with me to the field. Like a golfer, I have different bats for different situations. I usually have 10 or more with me.
Because of this, I carry them in their own roll up bag. This has been very handy. It keeps them from getting beat up and I can hang it on the fence in the dugout if I want. And if I want to be more mobile walking to the field, I just pull a few bats out of it and put them in my larger bag.
Baseball gloves and mitts
Choosing which gloves I wanted took some time. They are so different from the days of little league.
Coming in, I was anticipating playing shortstop most often, so I wanted a glove that would be perfect for that position but usable for others. That put my ideal size options between 11.25-11.75 inches.
These are just the gloves I have in my bag on gameday.
So I ended up getting a Wilson A700 11.75" glove and Rawlings Sandlot 11.75" to see which I liked more. I put some miles on both of them. And it was hard to choose between them. Both were good quality for low-medium priced gloves.
In the end, I liked the Rawlings just a bit more. While that Sandlot glove isn't my primary infield glove anymore, I still have it and use it for pitching. I've also gone with the Rawlings Sandlot series for my 12.75" outfield glove and first base mitt. I don't play those positions very often but do enough to have gloves I like for either situation. The Sandlot series is a good glove to try different options since all of the models are similar in shape to the higher end pro models.
After trying different sizes and styles, I finally landed on the Rawlings Heart of the Hide 11.5" as my regular infield glove. It's sturdy, looks and feels great and once broken in, fits my hand perfectly. For mine I went with the Pro CS5 model because I prefer the "H" web, which has a slightly deeper pocket. The most popular for middle infielders is usually the "I" web as it has a shallower pocket to get the ball out quicker.
For a catcher's mitt, I'm still in try out mode. Catching was a once in a while thing, but in the last couple years, I've happily spent more time behind the plate.
I have a couple mitts in my bag. One is a Rawlings player preferred that I got mostly to catch bullpens.
The other, my current gamer, is a Rawlings R9 32.5" catcher's mitt. It's a middle range price point that has given me good value. It broke in fairly quickly and has held up to abuse nicely. It has good padding in the thumb and palm and has served its purpose well.
I'm planning to upgrade to a higher tier mitt sometime this year, especially if I keep seeing increased time in the squat. I've been checking out the 33" Heart of the Hide.But I've also had my eye on the Wilson A2000 mitt.
Helmet
I've used a few different batting helmets but my favorite is a Rawlings single ear flap style. It makes me feel like a major leaguer!
A couple of my favorite game bats with my helmet and batting gloves.
Really though, I like it mostly because it's very light, and comfortable. It's not restricting and gives me a wider view of the field.
Batting gloves
One place I see a lot of differences in the dugout is in use and style of batting gloves. Some go barehand, some use pine tar, tiger stick or 3M adhesive spray, with or with out gloves. The variety of gloves in use is almost endless.
For a while, I just hit barehanded. Sometimes I'd have Tape or bat wrap on the bat, other times not. But I take a lot of swings. A lot. In the 10s of thousands per year once you add up tee work, cage work, bp and games.
Swinging barehanded tore up my hands, literally. It wasn't blisters, they went away quickly. I developed huge calluses which was good, but they would tear off which was bad.
So I started using gloves. I've used a bunch of different brands. Franklin, Rawlings, Nike, Under Armor. They were OK and did what they were supposed to do, but I had comfort issues with many of them. Seams on the palm. Shrinkage and crispness from sweat. They would tear, sometimes within a few bp sessions.
And I really didn't get the grip on the bat from them I was hoping for.
I took a chance on some gloves and, for me, they were a game changer, literally and figuratively. Wide Receiver gloves.
Wide receiver gloves to you, batting gloves to me. Found at Cutters
Yes, I'm still talking baseball. But
these gloves have been perfect
for me. The material is flexible, skin tight and doesn't harden. They are very light and you can still feel the bat. The tacky silicone palm and fingers are perfect to keep the bat from moving in my hands.
I go through about 2 pairs a year. Previously, I was going through a pair of batting gloves every month or two.
Yes, my choice in gloves here is unconventional, but what matters to me is comfort and performance. These deliver.
Catching gear
My old catching gear was a set that was pieced together. Nike shin guards, a Wilson chest protector, Wilson mask and a skull cap. These pieces worked for me and I still have them. But they are ancient, falling apart or severely out dated. Really, they belong in a museum.
The shin guards are cracked, the chest protector is heavy and the mask is even heavier.
So I got myself a new set of gear. Though only a part time catcher, I catch enough to need good gear.
The Easton Catcher's set I have works perfect. The shin guards fit great and the chest protector is light but effective. The set came with the newer hockey style mask. It worked fine, but I'm an old school kind of guy so I gave it away.
Instead I picked up a lighter All Star mask and paired it with my old school skull cap.
I've been very happy with this set. It serves its purpose well. It protects me behind the plate but gives me plenty range of motion to block balls, run down the line to back up first base and throw out runners.
Cleats
There are a lot of great baseball shoe brands out there. I'm not going to say anything bad about any of them.
But there is one brand that I see more and more on the baseball field. Over the years, they have carved out a huge chunk of the market in baseball cleats.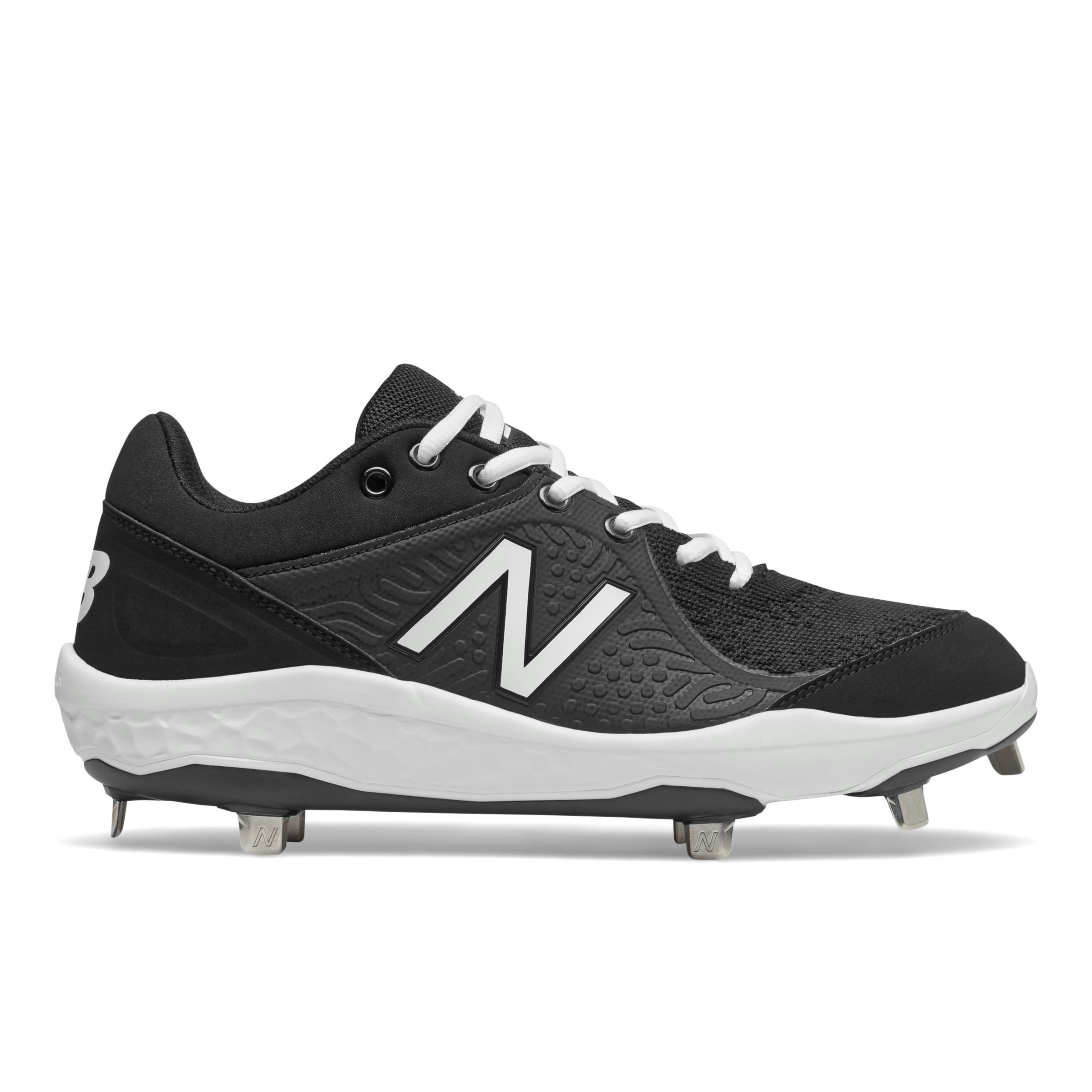 Its hard to go wrong with New Balance baseball cleats
And after getting my first pair of New Balance spikes, I can see why. They are light, yet durable. They fit and were comfortable right out of the box. Break in took about 20 mins. And they look great without being overly flashy. These are cleats for serious players.
Over the last couple of years, I've put mine through hell and back. And they are still kicking. The spikes are finally starting to wear down a bit, so I'll be getting a new pair in the near future. But I could probably get another year or two out of the ones I have if I stay off of concrete and asphalt.
And those slippery bathroom floors intent on taking you out of the game.
Seriously...why are bathroom floors at baseball fields so slippery?
Other odds and ends
Once you get past all the bigger equipment, there are still a few necessities floating around in my bag.
Maybe the most important as a catcher, and a guy in general, are the protective cups. I carry two in my bag.
The Shock Doctor is my favorite. It's comfortable and flexible but protects my manhood better than any other cup I've used. It is a bit bulky, but when I'm behind the plate, that's the least of my worries.
The other cup is a McDavid. It's slightly thinner at the base but still works well. I use this more when I'm out in the field instead of catching.
In my pitching article, I mentioned arm sleeves. I have one that's a full length compression sleeve and one that is an elbow sleeve. I use them mostly to keep my arm warm after warming up and between innings.
There are also a dozen or so baseballs rolling around in the bottom of the bag. MSBL uses a Marucci baseball, it's laces pretty low. NABA uses
Wilson baseballs
with slightly raised laces. I keep some of each in my bag.
I use the side pocket to store things on game day. I have an extra under shirt and pair of socks in there. I put my keys, wallet and phone there. And I can't forget the Middle Age Ball Player's best friend, ibuprofen.
I usually have a stack of 805 Bats business cards in there too for those that are interested in bats.
⚾️
I think you can see why I needed to get a bigger equipment bag. I never know what position or positions I'll be playing in any given game. I always want to be prepared know mattered where I'm needed on the field.
Hopefully you enjoyed taking a look at my gear. Maybe you got some ideas for your next pick up. Or maybe just a fun comparison to what you carry with you. Either way, I look forward to the next time I get to break out my equipment on the field,
Maybe I'll see you out there.
If you're ever in need of some new gear, check out some of the providers my site affiliates with. You can always check them out here.
Check back later for a future article on my equipment wish list. I've been considering 44pro gloves, Nokona and Nomad gloves as possibilities to add to the collection.
Let me know what your favorite gear is in the comments and give a share for those that may enjoy reading the Middle Age Amateur Ball Player.
⚾️⚾️⚾️
Play Ball